A  laptop is a basic need of the modern era. Many people including students and businessmen are looking for the best laptop in their budget but laptops are getting expensive day by day with the current covid 19 pandemic. The majority of people are working online. By this, laptops are also getting much difficult to find. So if you wanted a good performance but your budget is low then you don't have many options other than buying a used laptop.
That is why people are going with the used laptop and the market of the used laptop is getting bigger day by day and people are going towards used Laptops and getting high performance from the used laptop at a very low amount of price as compared to the new laptop that is way too much expensive.
Dell Latitude E5580 is also a good option for used laptops. The laptop is great in terms of both budget as well as performance. The laptop is a great budget option in terms of used laptops. It is a very tough laptop that was very good high-performance usage. It is a quite thin laptop. This laptop provides multiple security options to its users which makes it much different from many other laptops that are available in markets. This laptop is best for people who are looking for the best budget laptop with great performance because the performance of this laptop is quite impressive as compared to other laptops in the price range. Due to multiple security options, everyone can easily rely on this laptop because it will secure your personal information and data that make it unique from many other devices.
Specifications and design of Dell Latitude E5580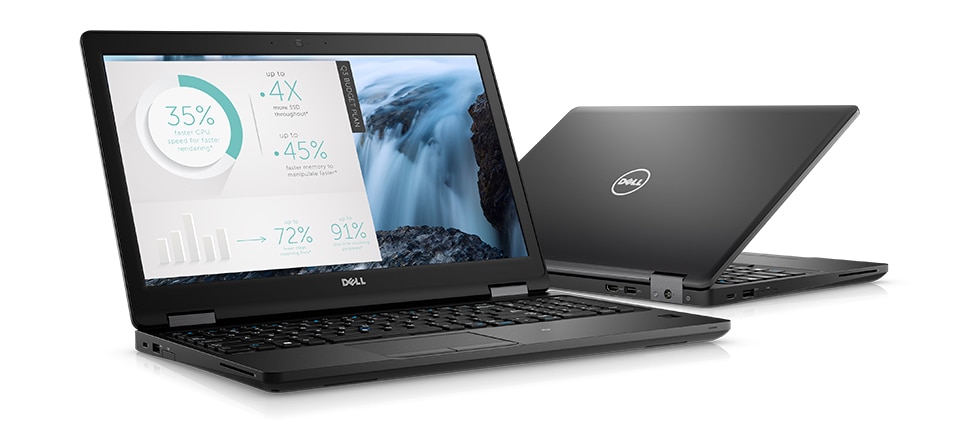 The laptop has good specifications according to its price tag. Here are some of the specifications of the laptop.
This laptop is available with a powerful intel core i5-7300U ( dual-core ) processor which is the best performance processor.

The laptop has 8GB of super-fast DDR4 RAM. That makes the laptop super fast and great to use.

In terms of storage, the laptop has 256 GB storage. That is super fast m.2 SSD. This SSD makes the laptop fast and snappy which provides its user a great experience.

In terms of design, the laptop is compact and stylish at the time of its launch. The laptop has dimensions of 9.8×14.8×0.9.

The laptop has a FHD 1080p display that is a non-touch display.

The laptop has Intel HD 620 integrated graphics. That is very much capable of handling daily tasks and provide great performance at normal tasks.
The laptop features premium specification with a core i5 7th generation that is a really good processor with quad cores and 4 threads.
Performance of Dell Lattitude E5580
This laptop provides decent performance which a large display of 15 inches screen coated by a glare-resistant which provides the best performance in any kind of lighting environment, with HD graphics without any kind of error. The display is of full HD resolution. The Keyboard of this device is very comfortable and makes it more valuable to work in dim light or even in a full dark environment.  
Furthermore, the performance of Dell Lattitude E5580 is very good this laptop provides a battery timing of 7 to hours which is decent enough as it features a resource-hungry intel core i5 7th generation performance.
The storage of Dell Latitude E5580 features is 256GB SSD which is sufficient enough storage for regular usage as you will not be doing gaming on this laptop. The laptop features a high-speed M.2 SSD that is very fast and loads the windows within seconds.
The laptop has an 8GB DDR4 RAM that is paired with intel Core i5 7th generation. This is a great enough combination that does not cause any lag or stutter in performance.
As you all know the main reason for a laptop is portability and not performance. But this laptop is especially meant for both that require more portable as laptops are for probability and with a great performance.
The laptop has a decent performance in all of the fields and performs very well. In terms of gaming performance, the laptop has not been made for a gaming Audience so we can't expect that much gaming performance by this laptop. The laptop only has an integrated GPU of intel HD graphics of 620. which is only dedicated to media consumption and other light graphics initiated work. But these graphics are decent enough to run games at 720p low settings.
Pricing of Dell Latitude E5580
The price of Dell Latitude E5580 starts from 550 to 630$. The price tag of the laptop is good according to its specifications.  The laptop provides a good price to performance ratio as compared to other laptops in used segments. The price is higher as it provides a very great performance until this day.
It provides excellent performance in its price tag and beat all of its other competitors in the market and provides excellent performance to its users at a very reasonable price according to its performance.
Final Verdict
This laptop is a great budget option in terms of the used market and provides great performance in a very relatively low range. It still provides the maximum performance and is not made for gaming and it is made for high-performance usage the laptop is targeted to an audience that wants maximum performance at low prices.
The laptop has great features to offer in budget price tag and it provides its users with an Intel Core i5  7th generation processor, 8GB of DDR4 RAM, and super fast M.2 SSD.
 It is made for office usage and student usage with high performance. It provides great performance at a relatively low price tag. As I mentioned above it is not made for gaming purposes. But it still manages to play games at 720 p low settings.